Liquid Nitrogen Treatment for Warts Now Available at Body & Soul
Freeze Off Warts with Cryotherapy
Warts sometimes go away on their own, but it can take years. A better option is to schedule an appointment with our dermatologist or podiatrist (foot doctor) to get rid of warts and lower the chances they will spread to other parts of the body. Body & Soul now offers cryotherapy, an easy, convenient process to tackle this problem. We sat down with our dermatologist, Dr. Guo Chunying to learn how freezing a wart using a very cold substance will help get rid of it.
B&S: What is liquid nitrogen treatment, how does it work?
Dr. Guo: Liquid nitrogen treatment or cryotherapy involves freezing the wart. This will create a small blister between the wart and the epidermal layer (skin). After the procedure, the wart and the surrounding dead skin will fall off. In a cryotherapy session, very cold temperatures are applied to the affected site. Cells get frozen which leads to dehydration. Eventually, dry dead skin falls off after 4 weeks.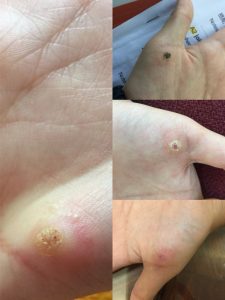 B&S: For which types of wart is cryotherapy effective and how many treatments are necessary?
Dr. Guo It is effective for several types of warts, including: common warts, flat warts, plantar (foot) warts and genital warts. An average of 2 to 3 treatments is required for warts on thin skin. Warts on calloused skin like plantar warts might take a dozen treatments.
B&S: What does the patient experience? Is it painful?
Dr. Guo: When liquid nitrogen (which is around -190 degrees Celsius or – 310 degrees Fahrenheit) is applied onto the wart, patients will feel the treated area becoming very cold and numb. If the freezing duration is longer, it might get a little painful. The treatment plan is always adapted to the patient and to the type of warts. The process is especially gentle for children who usually love this treatment as liquid nitrogen is applied in a playful way.
If you are seeking for a gentle yet effective treatment to get rid of warts, contact Body & Soul to make a consultation appointment with Dr. Guo or Charlie Lau for a cryotherapy session. Dr.Guo has reached the highest standard of practice in both skin disease management and aesthetic dermatology after almost 20 years of clinical experience. She specializes in adult and pediatric skin diseases, scars, acne, atopic dermatitis, skin cancer and complex skin surgery. Charlie Lau, podiatrist, applies cryotherapy to plantar warts. His experience in a private practice in New Zealand and at the reputable Matilda International Hospital in Hong Kong has provided him with a comprehensive understanding of diagnosis and treatment of a wide array of pathologies of the foot and lower leg.