Important Notice~~~
Dear Body & Soul patients and friends,
尊敬的身浦佳中医门诊部用户,
Body & Soul Medical Clinics is going to resume regular opening hours on March 2.
身佳中医门诊部将于3月2日恢复正常问诊。
Please feel free to book your appointment now.
如需预约,请联系我们。
In line with Shanghai city's escalated plan to contain the spread of COVID-19, and avoid cross infection, all patients and visitors are required to comply with the following preventative measures:
根据上海市防控新型冠状病毒的响应计划,防止交叉感染,所有患者和访客都必须遵守以下预防措施:
Please bring your own face mask and wear it at all times before entering Body & Soul Medical Clinics premises. Please help our nurse to do pre-entry health screening and fill in a form about your medical history, travel history, and contact history.  Please bring your passport or ID as well.
请所有进入身佳门诊部的患者和访客自备口罩并一直佩戴。预检台的护士将测量您的体温,请您配合填写信息登记和流行病史询问,出示健康证明或有效证件。
We suggest the patient to come alone, if necessary with only one person to accompany. This person must be well, without fever and respiratory symptoms, fill in the form and show the passport/ ID as well.
建议患者单独前来问诊,如有特殊情况,仅限一人陪同进入医院。此人必须没有发烧和呼吸道症状,并配合填写表格,出示有效证件。
If you meet the screening criteria, we are required to refer you to a designated public fever clinic by government rule.
如果筛查后有新型冠状病毒感染的潜在风险,则根据政府规定,我们必须将您转诊至指定的公立发烧门诊。
Please arrive at least 30 minutes before your appointment. We sincerely apologies for any inconvenience caused.
请至少在预约前30分钟到达。不便之处,我们深表歉意。
Body & Soul Medical Clinics
身佳门诊部团队
Body & Soul Medical Clinics - Downtown Clinic & Lifestyle Center
上海市黄浦区西藏南路760号安基大厦1405室
Anji Plaza 14th floor, 760 South Xizang Road (Crossing Jianguo Road)
200000 Shanghai, Huangpu District
TEL: (+86 21) 63455101
Email: huangpu@bodyandsoul.com.cn
WeChat: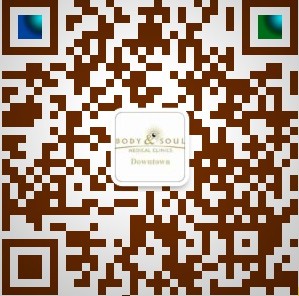 Body & Soul Medical Clinics - Hongmei Road Clinic
上海市闵行区程家桥支路211号置地大厦1楼
211 Cheng Jia Qiao Zhi Road (Crossing Hongmei Road),
201103 Shanghai, Minhang/Hongqiao
TEL: (+86 21) 6461 6550
Email: minhang@bodyandsoul.com.cn
WeChat: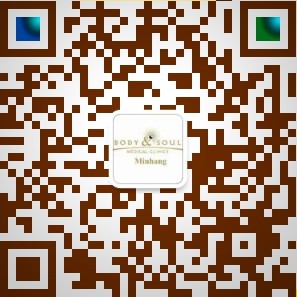 Body & Soul Medical Clinics - Century Park Clinic
上海市浦东新区民生路1518号金鹰大厦B座1303室
Jinying Building Building B Room 1303, 1518 Minsheng Road (Crossing Hanxiao Road)
Shanghai, Pudong New Area
TEL: (+86 21) 6162 0361
Email: pudong@bodyandsoul.com.cn
WeChat: