Healthy Eating with the Five Elements Cuisine Event
2019-11-20 @ 19:30

-

21:00
On Wednesday, November 20th, Body & Soul put on an event for ladies from Shanghai's GGI (Girl Gone International) Health & Fitness group. Dr. Marla Sulindro led a talk and food tasting to help the women become familiar with TCM concepts and a healthy diet using TCM principles.
Marla started by introducing the key concepts of TCM, including the whole body approach, yin and yang, the vital substances (blood and qi), and finally, the five elements.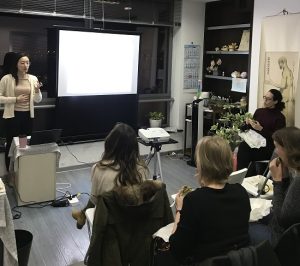 Marla helped the attendees to understand the components of diet in TCM, which are quite different than the nutrient-focused view in western medicine. TCM looks at taste, temperature and direction of action of particular foods. The tastes (sour, bitter, spicy, sweet, salty) are associated with the elements and particular organs. Temperature can be cold, cool, neutral, warm or hot. This is not referring to the temperature we eat the foods, but to their inherent qualities. For example, green tea and peppermint tea may be served hot but are considered cooling. These factors also relate to the direction of the action the food has on our bodies, and thus how it affects us and can be used therapeutically.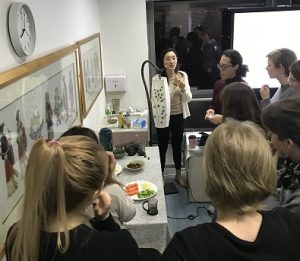 After a review of these concepts and Q&A, the group put them into practice with a food tasting. Marla had prepared various foods for the attendees to taste and discuss the food's properties. This allowed the attendees to better understand the concepts in action. It helped everyone to start thinking about food in a new way. Then, Marla discussed specific examples of food therapy and offered general healthy eating advice. The ladies had great things to say about how much they learned. And, they're planning to do another TCM educational event in the near future.
To learn more about healthy eating with the five elements, make sure to follow Body & Soul on WeChat and keep an eye out for our TCM educational articles. Our practitioners share information on a different health topic each week.
Body & Soul offers educational events on all aspects of health, both at our clinic locations and on-site for organizations. Contact us to inquire about booking an event and follow us on WeChat for the latest events.