Meet the Therapist: John Zhong, Physiotherapy and Rehabilitation
Specialized in sports medicine and athletic training, John excels at injury prevention and rehabilitation. He provides customized treatments for acute injuries, pain and chronic musculoskeletal problems. John assists patients with fitness and nutrition goals and designs training to enhance performance and physical conditioning.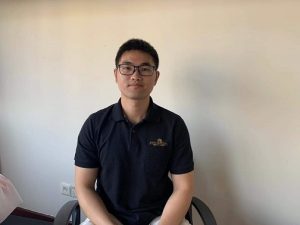 Tell us a bit about your professional background.
My background is in sports medicine, athletic therapy, training and rehabilitation. I've worked extensively with sports teams and at clinics providing physical therapy to athletes and active people. I worked at Shanghai Disney with their performers.
What types of issues do you treat at Body & Soul and how does it differ from your previous experiences?
I see everything from sports injuries to more chronic issues such as knee, ankle, and back pain. Many patients come in with posture and muscle imbalances, which are causing pain. I also work with many active people who want to improve their physical conditioning or train for various athletic goals. Additionally, we sometimes see people who need further rehabilitation from surgery or an old injury.
Body & Soul offers the best of eastern and western medicine, so it's a comprehensive approach. For example, when I'm doing physiotherapy for someone with musculoskeletal issues they can also benefit from acupuncture to reduce their pain. At sports clinics, we would generally work with athletes and performers training or doing rehab daily, even for many hours. We also relied on a huge array of equipment and tools. At Body & Soul, I'm using more manual treatment combined with the holistic approach. Treatments are usually once or twice/week with a home exercise program prescribed for the patient.
Explain your process to evaluate and treat the patient.
We use the SOAP process in physical therapy. I gather subjective information from the patient: history, type of pain, pain level, location of pain, what happened, when it hurts, etc. Along with this comes the objective information gathered from a physical examination and testing. X-rays and MRIs help identify any bone or joint issues. I do various range of motion, alignment, and muscle strength tests. The hands are the most useful tools to feel what is going on in the musculoskeletal system.
Patients may present with similar symptoms but very different underlying problems, so it's important to test the more improbable things and think well beyond the site of the pain. This process of differentiation forms the assessment that determines the right treatment plan for the patient.
When it comes to treatment, much of it is manual therapy—soft tissue release, joint mobilization, muscle activation. I also have different tools and technologies to use when indicated, such as the TENS machine for electrical stimulation, a hyperice massage fascia "gun", shockwave, vacuum cupping and scraping. The treatment plan may include various disciplines working together. I'll also show the patient how to do follow-up home exercises.
John Zhong provides physical therapy, sports rehabilitation and training at the Downtown (Xintiandi), Hongmei Road (Minhang), Four Seasons (Jingan) clinics. Click here to make an appointment with him.