Meet the Osteopath: Alessandro Ciullo
Alessandro has extensive experience working as a physiotherapist and osteopath in a wide range of settings. He's worked with patients of all ages, from famous athletes and performers to people suffering from chronic pain and young people with scoliosis.
What brought you to Shanghai?
I'm from northern Italy, specifically Como. My best friend since the age of six has been living in Shanghai for over 12 years. In 2015, I came to visit him and to travel around China and Asia. During the week I spent in Shanghai, he asked me to look at a friend's hurt knee. I evaluated the friend and gave him some advice and exercises. The clinic where he went later inquired about who had evaluated him and connected with me. After learning about my background, they offered me a position in Shanghai and I decided to give it a try. I'm not married and have no kids, so it was easy for me to make the arrangements. I came with no expectations so everything I've experienced here has been a gift.
Tell us about your professional background.
I received my degree in physiotherapy from University of Milan in 2000. I worked in rehabilitation centers and a private kinesiology clinic. Then I decided to further my education by getting my diploma in osteopathy, which I completed in 2009. From there, I worked in a variety of settings with patients of all ages and conditions. This included rehabilitation centers, in-home treatment, clinics and retirement hospitals. I've been able to use a combination of my physical therapy and osteopathy training to help patients with chronic pain, sports and other injuries. I've also worked extensively in the evaluation and treatment of scoliosis.
Since coming to Shanghai, I've been doing sports injury rehabilitation, osteopathic treatments, scoliosis evaluation, management and follow up. I'm excited to bring my techniques and experience to the holistic practice at Body & Soul.
You've had some interesting experiences helping athletes and performers in Shanghai.
Yes, I was fortunate to work on the Shanghai Rolex Masters for two years. I got to meet and help numerous players with physical therapy and osteopathy. Additionally, I was onsite at the training facility of Kooza by Cirque de Soleil. That was an amazing experience, to see how athletic and flexible those performers are. They could do things that didn't fit with my understanding of body mechanics and range of motion. I enjoyed observing how they were able to push their bodies to new limits. Additionally, I provided treatment to actors on movie sets and performers in various artistic productions in Shanghai.
I'm a musician myself (drummer) and had the chance to check out the music scene briefly on my first visit. Since living in Shanghai, I've gotten to know many musicians and perform regularly at local clubs such as JZ, Shake, etc.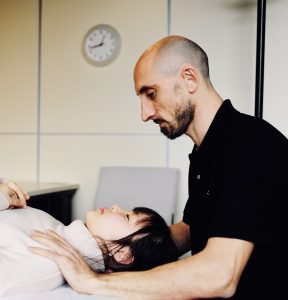 What issues do you commonly treat and what methods do you use?
The most common reason patients come in is for chronic problems, especially back and neck pain and related conditions. I also treat acute injuries, sports injuries and provide post-surgical rehabilitation.
My strength is being able to combine physical therapy and osteopathy techniques, to provide the best possible treatment for the patient. I holistically evaluate the patient as I was trained in osteopathy, looking for the main/originating problem and evaluating how the whole body is functioning. This enables me to offer an effective treatment plan that gets to the root of the problem. I can use a wide range of treatment techniques, from exercise therapy and sports massage to manual and craniosacral therapy.
Alessandro offers osteopathic treatments for chronic and acute pain, sports injuries, post-surgery rehabilitation and scoliosis in our Downtown Clinic – Xintiandi, Hongmei Road Clinic – Hongqiao and Century Park Clinic – Pudong. Click here to make an appointment with him and find out how his integrative approach can benefit your health.