Meet the Doctor: Joe Teh, TCM, Acupuncture & Tuina Massage
Joe specializes in treating internal medicine disorders as well as respiratory tract and genitourinary system diseases. Apprenticing with several TCM masters, he has acquired vast experience and helped many patients recover from allergies, digestive problems, sleeping disorders, headaches, anxiety, and other common health conditions. He combines herbal medicines together with acupuncture and tuina massage for treatment tailored to the patient's condition.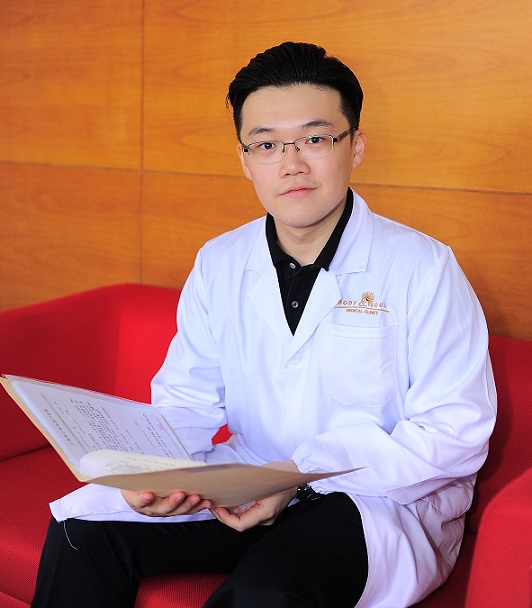 Tell us about where you're from and how you chose to study TCM and eventually work with Body & Soul in Shanghai.
I'm from Malaysia. My maternal grandfather was a TCM doctor and after considering studying music, I decided to pursue TCM with the intention of taking over his practice. I came to Shanghai in 2010 to study and completed my degree in TCM, minoring in acupuncture and massage, followed by my Master of Acupuncture at Shanghai University of TCM. Unfortunately, my grandfather passed away during the time I was studying. So, I stayed on in Shanghai studying with various TCM masters and interning at an integrative medicine hospital.
Body & Soul seemed like the perfect place for me to continue my practice of TCM. I appreciate the international and holistic atmosphere. I can take the time to talk with and understand patients, to provide the best diagnosis and treatment.
Tell us a bit about your experiences apprenticing with TCM masters.
I spent eight years learning under the guidance of a master who specializes in complicated diseases and herbal treatment for cancer. This doctor has success resolving complex conditions ranging from anxiety and sleeping disorders to allergies and digestive problems. I learned how TCM could help in serious diseases like ALS and cancer. I also spent three years apprenticing with a professor who specializes in acupuncture treatment for genitourinary system disease (urinary incontinence, overactive bladder, prostatitis, infertility, sexual dysfunction), allergic rhinitis, post stroke condition, and more. My master's thesis was an Evaluation of Long Term Efficacy of Acupuncture in Allergic Rhinitis.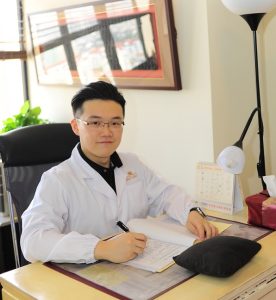 Can you explain the particular division of TCM and books you studied and how that informs your practice?
There are two primary books I studied and that my masters used in their work. One is Shang Han Za Bing Lun, or the treatise on cold damage diseases, written before 220 AD. It's an ancient clinical textbook, with discourse mainly focused on treating epidemic infectious diseases and various internal diseases. It consists of 113 prescriptions and categorizes disease into six divisions based on ancient scholars' observations. I collect information from the patient, both orally and through TCM diagnostic techniques, and start by categorizing their state into one of the six categories. Then, getting more specific with their symptoms within the category and complemented at times with other western diagnostic techniques like blood tests, I form a customized prescription for the patient.
The other book is Shennong Ben Cao Jing (or Herbal Classic of Shennong). Researchers believe this text is a compilation of oral traditions about herbal medicine, written between 200-250 AD, the earliest existing Chinese herbal classic. It is my essential guide to understanding all the herbs that can be used to treat various conditions.
Tell us more about your specialties and the types of conditions you treat.
My primary specialties include:
1. Using herbal treatment for respiratory and digestive system problems, sleeping disorder, anxiety, headaches, acne, atopic dermatitis, and cancer management.
2. Combining herbal and acupuncture treatment for allergic rhinitis, stress urinary incontinence, overactive bladder, prostatitis, sexual dysfunction, infertility, post-stroke condition and more.
3. Combining acupuncture and massage for pain management, neck and lower back pain, and frozen shoulder.
I've been able to study and gain practical experience in specific TCM techniques, as well as share my knowledge speaking at conferences. I had the honor of participating in a national acupuncture and tuina competition, winning third place in all of China. Most important, however, is being able to see patients getting better.
Joe offers TCM evaluation and treatments, including acupuncture and tuina, at the Downtown (Xintiandi), Hongmei Road (Minhang), Century Park (Pudong) clinics.
Click here
to make an appointment with him.