Is Standing Better Than Sitting?
This is part of our "In Medical News" series where Dr. Sara Laudani shares a study or article in recent news and offers some analysis and tips about the news, to help patients stay informed.
We hear a lot of talk about the health risks of a sedentary lifestyle and we should all be taking this seriously. As far back as 2002, the World Health Organization (WHO) warned that approximately 2 million deaths per year are attributed to physical inactivity and a sedentary lifestyle could very well be among the 10 leading causes of death and disability in the world. Various studies have shown physical inactivity increases all causes of mortality, doubles the risk of cardiovascular diseases, diabetes, and obesity, and increases the risks of colon cancer, high blood pressure, osteoporosis, lipid disorders, depression and anxiety.
Increased Sitting Time
Estimated total sitting time rose significantly for both adolescents and adults in the US from 2001 to 2016 (NHANES, April 23 JAMA). The substantial rise in total sitting time among adolescents and adults appears to be related to behaviors other than television or video watching, which was likely driven in part by increases in computer use. Unfortunately, this sedentary lifestyle is spreading to most corners of the world.
Can Standing More Help?
While there is no doubt that sitting time is increasing and impacting our health, studies are now examing exacly what can really be done to offset the effects of sitting more.
An analysis of a large cohort study shows that standing instead of sitting may not counteract the impact of regular, prolonged sitting on survival rates. While getting up to stand and stretch more at work may help in other ways, it seems these changes won't mitigate the overall health detriments. To do that, one would have to replace the sitting time with exercise of at least moderate intensity.
The excess risks were substantially countered in those who maintained 150 to 200 minutes of physical activity per week. And they were all but erased for those achieving at least 300 minutes per week of activity.
"Replacing sitting with standing is not enough. We need to be replacing sitting with movement. Even walking may do the trick in the case of tackling the 'all-cause' mortality," said Emmanuel Stamatakis, PhD, University of Sydney, lead author on the study (published April 22 in JACC).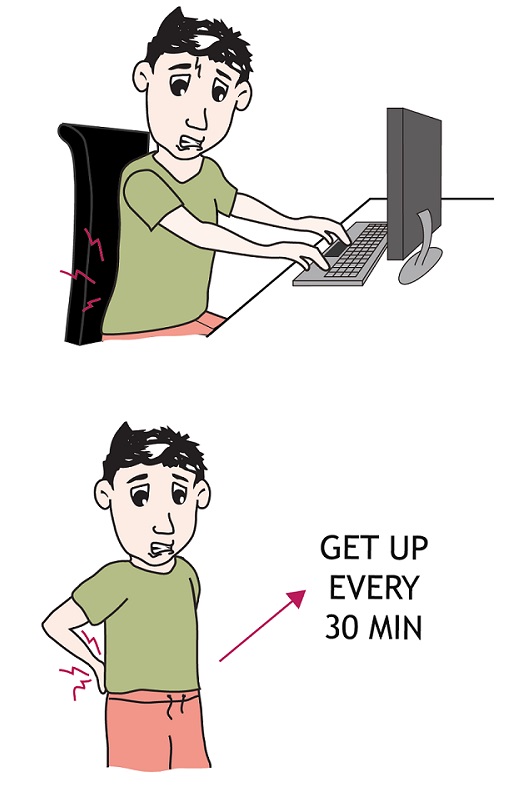 How Can You Be Sure Sitting Isn't Putting You at Risk?
The most important message is if you sit too much, be sure to incorporate moderate to vigorous physical activity into your daily life.
Many of you have to sit much of the day for work, and possibly during commutes. If you can reduce your time sitting from over eight hours/day to less than four, it will help your health. This might mean being sure you don't sit much during leisure time and finding ways to reduce sitting time at the office significantly, such as using a standing desk. Consider walking or biking to work (or at least part way) or standing on the metro.
For those who can't reduce sitting that much, it is vital to at least increase physical activity to the lower recommended range of 150 to 299 minutes/week. Preferably, "high sitters" should get over 300 minutes of activity/week to counteract all risks.
Be sure to get regular checkups, particularly if you sit a lot or have a family or personal history of cardiovsacular problems. Talk to your doctor about your health status and create a plan to reduce your risks. Body & Soul's physiotherapists can work with you to develop a tailored fitness plan.
Dr. Sara Laudani offers consultations in internal medicine and functional and nutritional medicine in our Hongmei Road Clinic – Hongqiao. Click here to schedule an appointment with her and find out how her holistic approach and protocols can help you resolve your health issues.